Dot Bot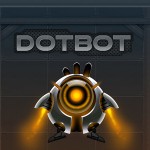 Launch: December 2014
Price: Free

DotBot is an unique game that challenges your reaction time. With a brand new mechanics, its the ideal game for those who like to surpass themselves, it`s a fun arcade game specially developed for killing time.

BEWARE: this is not for amateurs!

How to play:

( ghahh!! I can't believe you're still reading this! )

We are pretty sure you can figure it out… but fine, we'll help:

Change DotBot's color with a simple TAP on the button whose color matches the platform you want to land on. Jump from platform to platform and see how high you can go!
[vc_masonry_media_grid style="all" items_per_page="10″ element_width="4″ gap="10″ button_style="rounded" button_color="blue" button_size="md" arrows_design="none" arrows_position="inside" arrows_color="blue" paging_design="radio_dots" paging_color="grey" loop="" autoplay="-1″ item="masonryMedia_Default" grid_id="vc_gid:1434469266833-2e871c46-56e1-4″ include="514,559,560,561,562,563,564″]